Essentially the last two months have went as follows: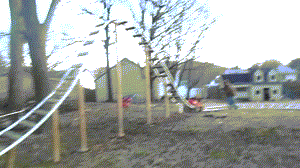 Cliff notes version?
lost my job
gained some contract work
got a crazy, sassy adorable dog
scheduled & confirmed multiple speaking presentations starting in January
The second to last week of October, my hours at work were cut down. I ended up picking up shifts which helped, but also had me more worn out than usual. The next week one of my coworkers also had her hours cut. There have been multiple occasions in the time I've been employed where the owner, who lives in South Carolina, has called and said she's selling the store. Some of these have held more weight than others, but she's always back-peddled and on we've went.
Except this time would prove different and so while the mixed signals continued (is she? isn't she?) for a time, by the second week of November she told us she was closing the business she'd held for just shy of 20 years by December 15th. I understand why the owner made this decision, but where I and pretty much everyone else had more trouble was in the way and timing she went about it.
There was this expectation that I – and the others – would be employed until July 2019 at least, and ideally with something to move on to by then. I've said before that I didn't expect to work at this little health food store for the rest of my life, but for the past year and a half this low-stress job, my coworkers and our wonderful regular customers (and variety of characters to balance that out…) have been the best thing for me. Ironically, it's because I was in therapy that I ended up working there in the first place, but I can't overstate how thankful I am for the people and reliable routine it gave me, and consequently, the ability to really focus on my health and growth – physically, mentally and emotionally.
Not having those things, or income, for the past two weeks has been sad and something I'm still adjusting to. It feels like a winter break and that I'll just go back after the new year, and of course there are some unknowns too.
A couple of things have helped though…
Enter Frida :) Waaay back in February I mentioned in a post that I'd been hanging out with some really adorable puppies. Funnily enough, I only found out about this litter of puppies because of my job at the health food store. Anyways, I was hoping to bring one home with me, but then all my surgeries happened and puppy did not.
Until December 1st…
We thought about changing the name, but taking a cue from her Mexican artist namesake, she is equal parts sass, drama, and love, and nothing else seems to fit.
Getting her was a whirlwind in itself: on a Thursday the mother's owner had made a facebook post saying Frida's owner needed to re-home her, and by Saturday the little red fox was ours. I'll try to do a separate post after the new year, because there's a bit more to her story. As of now she's been with us for four weeks, and I have to say there's been a *slight* contrast between a just-turned-one puppy and our last family dog who was of the 'literally perfect, house trained themselves and never put a foot wrong' variety, buttt then she curls up in your lap and literally melts your heart.
No pictures for this one, but right around the time of finding out the store was closing, I was contacted about an opportunity to do contract work for an organization I'm already familiar with – and that would actually be utilizing some of my recreation therapy skills! To say the least, I was surprised and excited – not to mention the timing! I've already gotten started on a project and while it's been a little slow between the store, the pup, and just trying to avoid getting sick (still ended up a with a cold last week…), it has been so validating and motivating to be doing something I love again.
Last but not least, I've got my first speaking presentations for Rising Voices of Narcolepsy scheduled and coming up in January! As of now I'm starting off at a high school talking with students in the Jobs for America's Graduates (JAG) program, then in mid January I'm headed to a medical school in Ohio, and in March I'll be speaking to more medical students at a school a bit closer to home!
Happy I'm feeling well enough to make some time for writing after being sick and doing all the napping this past week. Whether I review 2018 before or after the new year doesn't really matter, I'm just resting into this space of enjoying both looking forward and appreciating where I've been.